If vegan chicken is the new beef, is seafood the next frontier? Both the quantity and quality of vegan fish options have seen a prevalent uptick in recent years. The result? Vegan fish is moving out of the supermarket freezer aisle and onto restaurant menus nationwide. Chefs are dipping their toes into the plant-based fish category—typically in the form of a vegan fish sandwich à la fast-food classics like McDonald's Filet-O-Fish and Burger King's Big Fish. We're even holding out hope that one day, vegan fish will make its way to the menu of mainstream chains. But until that time comes, you can snag a plant-based fish sandwich at mini-chains and standalone brick-and-mortars across the country.
Honeybee Burger
1 Honeybee Burger
First and foremost, this Los Angeles micro chain is a burger joint. But, it serves a mean vegan fish sandwich. In October 2021, Honeybee Burger introduced a fishier handhold that rivals McDonald's Filet-O-Fish. The creation is made with a breaded and fried Good Catch plant-based fish filet that's given a proper schmear of tartar sauce and a crown of pickles. The filet sits on a melty bed of two Violife cheddar slices, all held together between two soft potato buns. We know fish and cheese is a bit unorthodox, but don't knock it until you've tried it. As of summer 2022, Honeybee Burger is in the midst of expanding to New York City and Chicago.
Learn more here
Nice Guys
2 Nice Guys
If you're looking for a burger dive, Nice Guys is it. This no-frills joint serves up the basics with a grill that's always hot and a deep fryer that's always bubbling. The burger options are certainly worthy of consideration, but the fish sandwich hits the spot if you're not in the mood for vegan beef. The simple sesame seed bun handheld consists of two golden fish steaks on a patch of lettuce, tomato, and tartar sauce. Pair it with a frosty, dairy-free Mooshake in strawberry, malt, chocolate, or vanilla to give you something sweet to balance out the savory, fried flavors.
Learn more here
PLNT Burger
3 PLNT Burger
The brainchild of celebrity chef Spike Mendelsohn, PLNT Burger's menu is primarily centered around an array of Beyond Meat Burgers. But, you can also get yourself a McDonald's-style vegan fish sandwich. The sammie features a crispy, golden-brown Good Catch fish filet, plus tartar sauce, pickles, lettuce, and a potato bun. Pair it with the crispy herb fries and a cup of dairy-free soft serve ice cream to complete the meal. You can find this vegan fast-food establishment located inside select Whole Foods Market stores across Washington, DC, Maryland, Virginia, and Pennsylvania. There are standalone locations in New York City, with planned expansions within the Big Apple and Boston.
Learn more here
Veggie Grill
4 Veggie Grill
The Good Catch boom has infiltrated several vegan-friendly restaurant menus—including Veggie Grill. In the fall of 2021, the national plant-based chain launched its Cajun Fish Sandwich featuring the Good Catch crispy fish filet. The kitchen shushes this humble sandwich up by adding lettuce, tomato, pickled celery, and a fiery Cajun Devil sauce slathered on two buttery brioche buns. The chain also offers a plant-based tuna melt made with Good Catch tuna.
Learn more Here
Plant Power Fast Food
5 Plant Power Fast Food
This rapidly growing vegan fast-food chain may be coming to a state near you. Amongst the burgers, wraps, shakes, and tots, the "Fish" Filet Sandwich is a star. It marries vegan cheese with a fried fish patty, tartar sauce, and the usual lettuce and tomato. The best thing? Many of these locations have drive-thrus, so you don't even have to leave your car.
Learn more Here
Slutty Vegan
6 Slutty Vegan
You won't find a Filet-O-Fish or something as commonly labeled as "fish sandwich" at Slutty Vegan. Instead, scan the menu for the item called the Heaux Boy. Unorthodox in name and composition, this vegan fish sandwich is made with fried vegan shrimp instead of a flaky steak. The New Orleans-seasoned crescents of shrimp are piled high along with shredded lettuce, tomato, pickles, and the chain's signature Slut sauce barely contained on a sweet Hawaiian bun. We'll raise our glasses to that. Once available only in Atlanta, founder Aisha "Pinky" Cole has opened multiple locations across Georgia with planned expansions in Alabama and Brooklyn, New York.
Learn more HERE
@veganbodegacat/Instagram
7Seasoned Vegan
For a taste outside of the standard filet, lettuce, and tomato, check out this family-owned spot in Harlem. Its BBQ "Crawfish" Sandwich is one of the most popular items on the menu—no doubt thanks to the homemade ingredients that comprise this tasty sammie. The kitchen pairs fermented soy crawfish with grilled burdock root and smothers it all with Bayou BBQ sauce. This handhold is one of the most original vegan fish sandwiches we've ever had the pleasure to devour. There's also a chickpea-based tuna sandwich on the menu as well as a po' boy sandwich featuring fried vegan shrimp made from yam and burdock root.
Learn more here
Next Level Burger
8 Next Level Burger
You may walk up to the Next Level Burger counter with the intention of ordering a burger, but then you'll spy someone taking a bite into the Fried Fish(less) Burger, and suddenly, a vegan fish sandwich will sound pretty good right about now. Paired with dairy-free cheese, lettuce, tomato, and tartar sauce, this sandwich is basic yet satisfying. Order it with crinkle-cut fries for a terrific vegan fast-food experience. You can find this all-vegan fast-food joint in San Francisco, Portland, Seattle, Austin, and New York City.
LEARN more HERE
Bareburger
9 Bareburger
With 27 locations across the US and a substantial plant-based menu, this vegan-friendly fast-casual chain is a great place to get a bite to eat. Amongst the vegan burgers and nuggets, you'll also find The Gulf—a fish-free sandwich made with a crispy Good Catch filet, green leaf lettuce, cool cucumbers, fresh tomatoes, vegan mayo, and green goddess dressing on a sprout bun.
Learn more here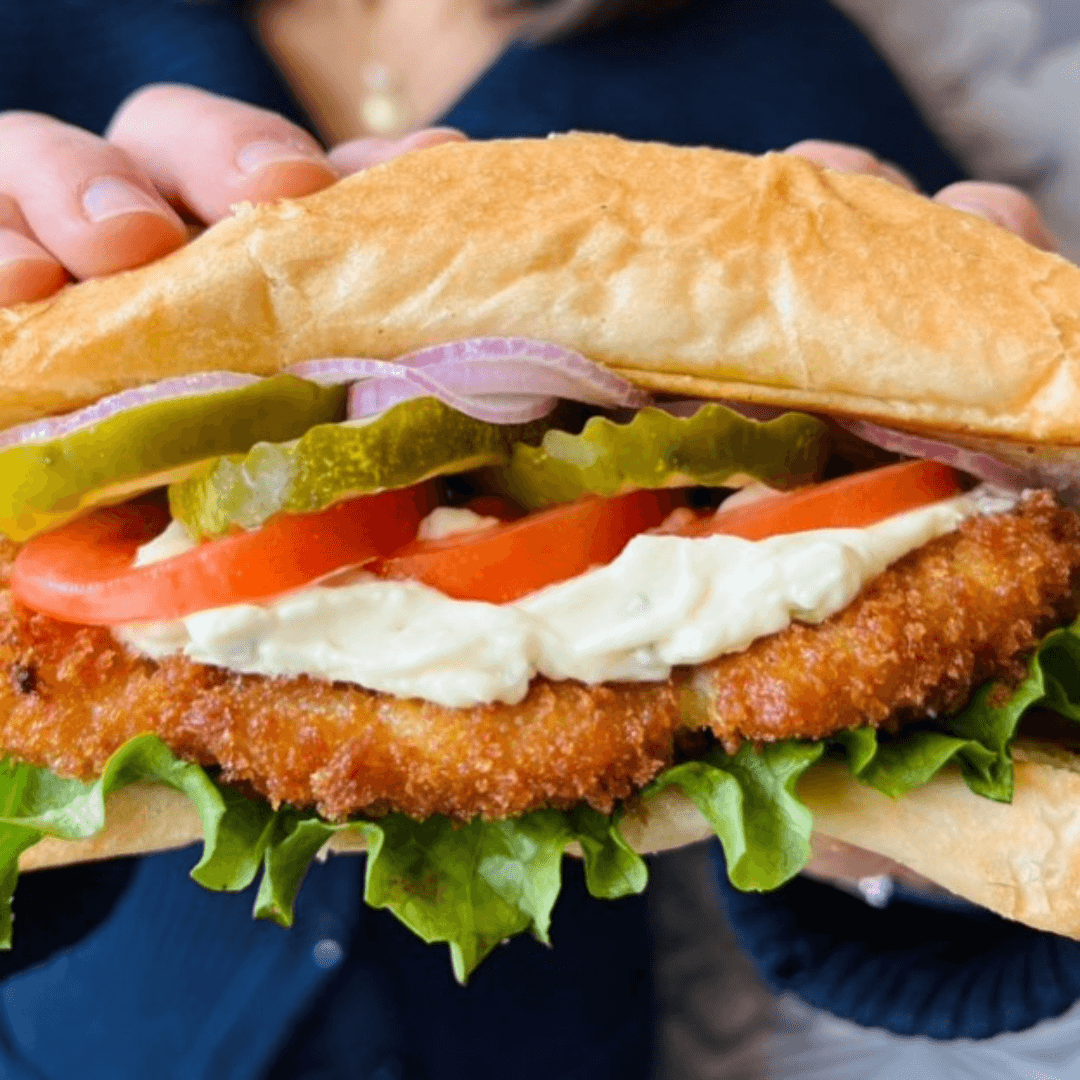 Kāl'ish
10 Kāl'ish
This Chicago mainstay makes diner-style food like burgers, Reubens, grilled cheese, and mac and cheese. That makes it awfully hard to choose just one option, but if you must go with a single item on the menu, go for the Filet O' Kalish, which comes with a housemade breaded-and-fried vegan fish patty topped with lettuce, tomato , red onions, pickles, and tartar sauce. We recommend getting it with a big box of fries and a tub of dairy-free mac and cheese.
Learn more here
The Modern Vegan
11 The Modern Vegan
Distinctly unique from a split-top lobster roll, The Modern Vegan's Lobster Melt can only be found in Vegas. The triple-stacked sourdough sammie with Maine flair is loaded with heart of palm-based vegan lobster meat, melty plant-based cheddar, lettuce, tomato, and a swipe of pesto. If the standard fish sandwich doesn't appeal, this lobster version will peak your curiosity at the very least.
Learn more here
For more vegan fish finds, read:
10 Vegan Fish Products That Are Swimming in FlavorHealthy Vegan Pink Rice Sushi Roll with Creamy Ginger SauceCrispy Vegan Beer-Battered Tofu Fish & Chips
JUST LAUNCHED!
Vote in the 2022 Best Vegan Ice Cream in America Awards.
VOTE HERE
JUST LAUNCHED!
Vote in the 2022 Best Vegan Ice Cream in America Awards.
VOTE HERE