So you ate the Guacamole Greens salad at Sweet Green every day for a year because you loved that Cilantro Lime Dressing. Then after realizing you basically ate the equivalent of a down payment on a house, you graduated to making a salad at home with bottled Cilantro Lime Dressing from Trader Joe's. Now you're ready to level up to making Cilantro Lime Dressing yourself. Welcome to your whole new world.
What You Need for Cilantro Lime Dressing
You probably already have most of the ingredients to make Cilantro Lime Dressing, and the rest of the ingredients in the recipe are fairly accessible!
Cilantro, obviously!
Green onions
Garlic
Jalapeño or serrano pepper
Lime, obviously
Nutritional yeast, or other salty, savory umami ingredients like cheese
Neutral flavored oil
Salt
Do these ingredients look familiar? Cilantro, green onions, garlic, jalapeño and lime are ubiquitous ingredients in Latin cuisines. Of course, they're also common pho garnishes, and I don't totally know how that geographical cuisine developed, but that's a master's dissertation for another day.
If you've been here a while and know about my absolute obsession with the Peruvian green sauce Aji Verde, you might think the two cilantro and lime-based sauces are the same thing. Aji Verde and Cilantro Lime Dressing have similar but not the exact same ingredients, and in different proportions.
But You Hate Cilantro
Never in a million billion years would I have ever thought I would develop a recipe for Cilantro Lime dressing, let alone make it at least once a week and put it on anything- and everything. I hate cilantro. Like HATE it. Well, cilantro doesn't taste like dish soap to me. It tastes much flies worse.
By itself.
There has to be something in the biophysical chemistry of blending entire bunches of cilantro, including their stems which are actually where the worst of the olfactory offense is, at very high speeds that render the previously foul flavor into one that's only subtly noxious. Kind of how anchovy sauce, kimchi, and blue cheese are.
It could of course, also be that the other very intensely fragrant ingredients like multiple cloves of raw garlic, fresh green onions, and nutritional yeast (or cheese) "tame" the flavor of the cilantro.
Whatever the science, it somehow works out to create Cilantro Lime Dressing, a bright green, garlicky, tart lime-spiked sauce. Drizzle it as a sauce over a burrito bowl. Stir it into scrambled eggs. Serve with chips. And of course, use it exactly like its name, tossed with fresh greens and vegetables for an incredible salad. Because there is up to one whole jalapeño blended into the dressing, it's also got a spicy kick.
One quick note: the Cilantro Lime Dressing as presented is plant-based/vegan, and is endlessly flexible with respect to substituting for other dietary preferences or in ingredients you may already have ie parmesan cheese, olive oil
Ingredients Notes and Substitutions
Cilantro. The recipe is based on cilantro. If you have to substitute out cilantro, don't make this recipe. I used to pull the leaves completely off every stem, but at this point, there's no reason. You can use most of the stem except for the fibrous, bottom 2-inches.
Green Onions. Green onions have their own flavor, and you can use both the white and green parts of the stalk. If you don't have green onions in the kitchen or they don't look super fresh at the market, substitute any round white, yellow, or red onion.
Garlic. Use fresh garlic. Garlic powder and/or dehydrated garlic are too different in intensity for a dressing like this.
Jalapeño. I use half a very large jalapeño pepper for this recipe, and the dressing's intensity of heat just depends on how spicy the pepper is. You can substitute serrano pepper with the understanding that serranos, though smaller, are spicier. Proceed accordingly. If you want a pure Cilantro Lime Dressing with no spice, leave the jalapeño pepper out. If you like the flavor of pepper, use about ¼ of a small green bell pepper.
Lime. I use 2 whole limes, but limes vary in size, and how much lime juice they render. Aim to get about 4 tablespoons/ ¼ cup of juice
Nutritional yeast. I use nutritional yeast as a non-dairy substitute for parmesan and other salty, savory, umami-packed cheeses. If you don't have a preference for non-dairy, by all means use the regular dairy grated parmesan cheese.
Neutral flavored oil. I use avocado oil. It has a more neutral flavor than olive oil. However, if you already have olive oil, use that. Other neutral oils that work here are canola and grapeseed.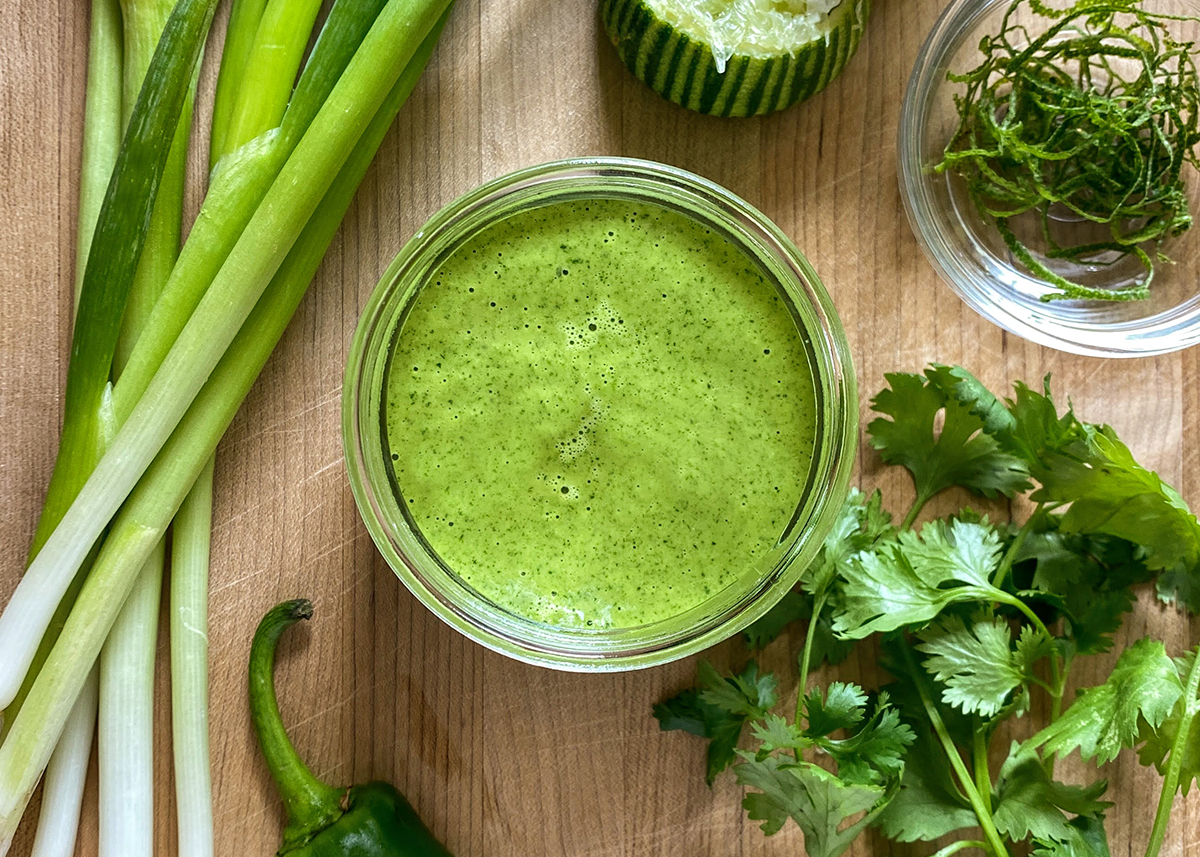 How to Make Cilantro Lime Dressing
There is nothing more than throwing all of the ingredients in a blender or food processor and let the machine do its work until the dressing is light, bright green with tiny specks of cilantro.
Order of Ingredients in Blender or Food Processor
Pro-tip for blending and food processing: There is an optimal order in which to add ingredients to a blender or food processor. Trust me, I earned easily through research and the hard way through trial-and-error.
Always start with

liquids

in the bottom of the blender first (closest to the blades). In the case of this recipe, that's the lime juice and avocado oil.
Next, add any

powdered/grated or lighter ingredients

.
he top

hard solid ingredients

like garlic cloves.
Cilantro Lime Dressing Recipe
A light, bright, green dressing that hits the anti-inflammatory checklist with garlic, green herbs, fresh citrus juice and heart-health promoting oils. Cilantro Lime Dressing is perfect for a taco salad, burrito bowl, or just as a dip for tortilla chips.
Servings: 1 cup
Ingredients
1

bunch

cilantro

1

stalk

green onion

2

customs

garlic

peeled and lightly smashed

½

jalapeño

seeds removed

1

lime, juice and zest

2

tablespoons

nutritional yeast

or cotija, feta or parmesan cheese

¼

cup

avocado oil

½ + ½

teaspoon

coarse salt
Instructions
Place cilantro, green onion, garlic, jalapeño pepper, lime juice and zest, and nutritional yeast (or cheese) in a blender or food processor. Pulse, then process until ingredients are finely chopped and well combined.

Add the oil and ½ teaspoon salt to a blender or food processor. Combine until olive oil is emulsified.

Taste Cilantro Lime Dressing, and add the remaining salt if needed. The dressing should taste fairly tart and salty.
Notebook
Cilantro Lime Dressing will keep in an airtight container in the refrigerator for up to five days.